I am an overachiever. Well, to put it more bluntly (and more honestly), I don't really over achieve anything but it doesn't stop me from making plans and to-do lists that are big enough to wallpaper my living room.
Now, I don't presume that all people are like me but if you are, this hop is the place to be. We can encourage one another to 'get doing'!
If you are not one of these people, we could sure use your guidance and inspiration. :) Bottom line: this hop is for everyone!
The goal of To-Do Tuesdays is to share your to-do lists, projects or any good intended plans.
Tutorials are most welcome.
If you would like to Host or co-host this hop, please click here.
To find out more about Hosting/Co-Hosting, please click here.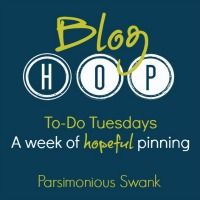 To-Do Tuesdays are sponsored by: